Dutch Lady® 456
A balanced and sufficient nutrition intake is crucial for the growth and development of children. The development of the brain is also crucial at this stage.
DHA plays an important role in the brain. Whereas protein facilitates growth and helps repair body tissues.
Calcium on the other hand helps the growth of strong bones and teeth. Dutch Lady® 456 contains 5X DHA*, protein, and 20 vitamin & mineral such as iron, calcium, magnesium, iodine, vitamin A, B, D and selenium.
All these specific nutrients are vital in facilitating children's overall growth and development.
Buy Now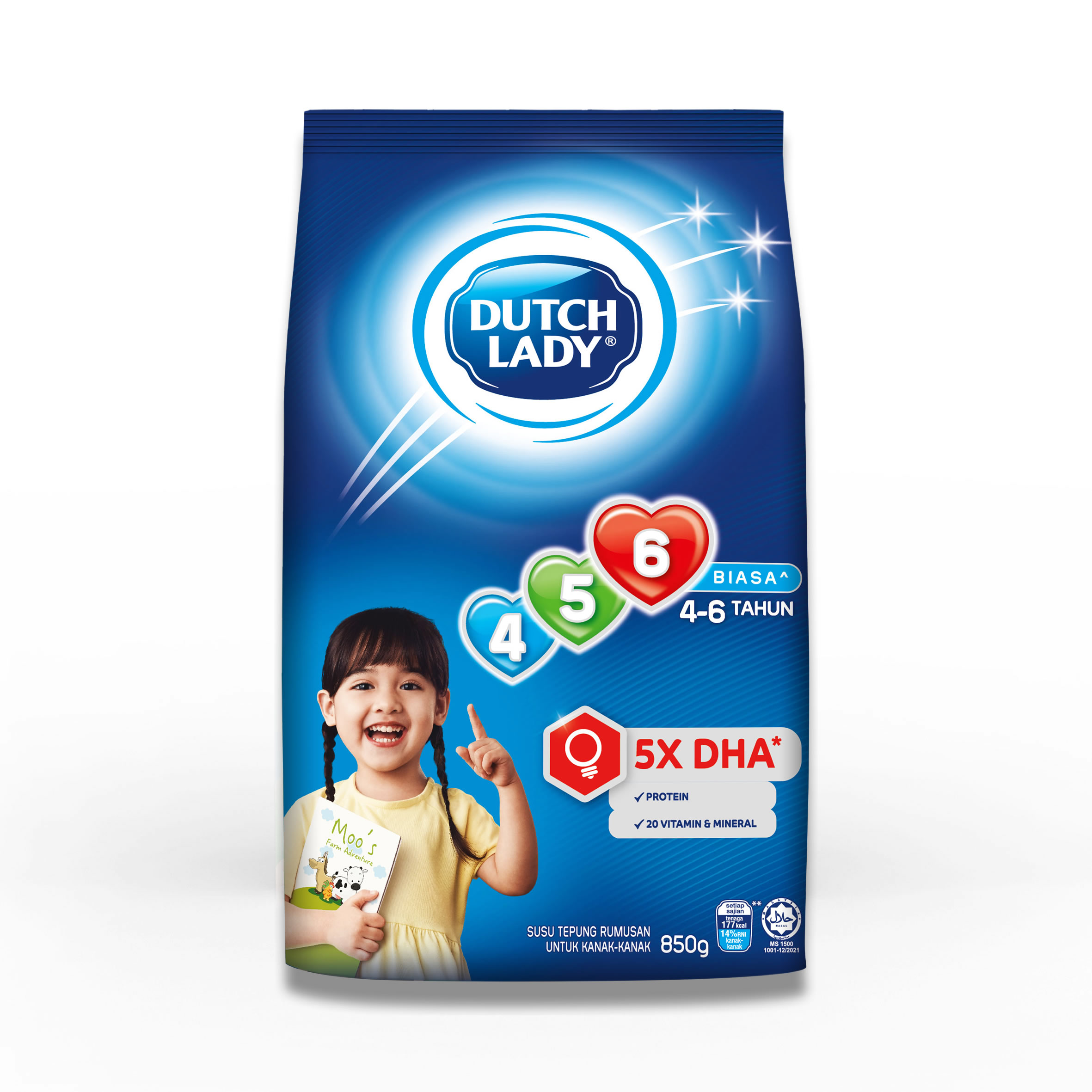 Key Nutrients
DHA
Protein
Calcium
Vitamin C
Flavours and Pack Sizes
550g
850g
Preparation Method
Use 200ml of boiled warm water. Recommended 2-3 feeding per days.
3x tablespoons (40g).
Storage Method
Store in air-tight container in cool and dry place. To maintain freshness, consume within 1 month after opening.
456 Plain
456 Honey
456 Chocolate
^Source: Based on Malaysia RNI for children 4 - 6 years old (based on average 1255kcal)
Average Composition
Per 100g
Per serving 220ml
Per 100g
Per serving 220ml
Per 100g
Per serving 220ml
Energy
443kcal / 1861kj
177kcal / 744kj
443kcal / 1860kj
175kcal / 735kj
435kcal / 1827kj
209kcal / 878kj
Protein
15.0g
6.0g
15.0g
5.9g
15.0g
7.2g
Taurine
36mg
14mg
35mg
14mg
30mg
14mg
L-tryptophan
180mg
72mg
180mg
71mg
190mg
91mg
Fat
14.0g
5.6g
14.0g
5.5g
14.0g
6.7g
Comprising of
Monounsaturated fatty acid
5.6g
2.2g
5.6g
2.2g
5.5g
2.6g
Polyunsaturated fatty acid
2.2g
0.9g
2.2g
0.9g
2.1g
1.0g
Docosahexaenoic acid (DHA)
40mg
16mg
40mg
16mg
34mg
16mg
Linoleic acid (Omega 6)
1750mg
700mg
1750mg
693mg
1575mg
756mg
α-Linolenic acid (Omega 3)
230mg
92mg
225mg
89mg
220mg
106mg
Saturated fatty acid
5.6g
2.2g
5.5g
2.2g
5.7g
2.7g
Trans fatty acid
0g
0g
0g
0g
0g
0g
Carbohydrate
64.2g
25.7g
64.2g
25.4g
61.2g
29.4g
Total sugar
28g
11.2g
32g
12.7g
40.0g
19.2g
Sucrose
0g
0g
0g
0g
12.7g
6.1g
Minerals
Calcium
450mg
180mg
450mg
178mg
440mg
211mg
Iron
7.5mg
3.0mg
7.5mg
3.0mg
5.7mg
2.7mg
Magnesium
45mg
18mg
47mg
18mg
70mg
34mg
Zinc
2.5mg
1.0mg
2.5mg
1.0mg
2.0mg
1.0mg
Iodine
130µg
52µg
130µg
51µg
85µg
41µg
Selenium
10µg
4µg
10µg
4µg
11µg
5µg
Vitamins
A total
350µg-RE
140µg-RE
350µg-RE
139µg-RE
325µg-RE
156µg-RE
D3
10.6µg
4.2µg
10.6µg
4.2µg
9.5µg
4.6µg
E
7.0mg
2.8mg
7.0mg
2.8mg
6.0mg
2.9mg
K1
19.0µg
7.6µg
19.0µg
7.5µg
19.0µg
9.0µg
B1
0.40mg
0.16mg
0.40mg
0.16mg
0.40mg
0.19mg
B2
0.55mg
0.22mg
0.60mg
0.24mg
0.50mg
0.24mg
Niacin
6.0mg
2.4mg
6.0mg
2.4mg
6.0mg
2.9mg
B6
0.35mg
0.14mg
0.35mg
0.14mg
0.30mg
0.14mg
Folic acid
96µg
38µg
96µg
38µg
86µg
41µg
Pantothenic acid
2.0mg
0.8mg
2.0mg
0.8mg
1.8mg
0.9mg
B12
1.0µg
0.4µg
1.0µg
0.4µg
1.0µg
0.5µg
Biotin
14µg
5.6µg
14µg
5.5µg
13µg
6.0µg
C
95mg
38mg
95mg
38mg
80mg
38mg
Choline
80mg
32mg
80mg
32mg
85mg
41mg
Inositol
46mg
18mg
46mg
18mg
40mg
19mg
Learn about other Dutch with 5x DHA products